Not exactly new (it was introduced in 2013), but finally marching strongly into everyday products including mobile phones, the type-C USB connector could become a standard for more and more devices. Convenient charging, usage as a headphone connection, transfer rates up to 1000 Mo/s… The Type-C USB 3.1 generation offers numerous undeniable advantages. Made popular by its presence on the 12-inch Macbook, USB-C is being incorporated on more and more mobile phones and other connected devices.
USB-C is not a new USB standard, but was designed to go in pair with the USB 3.1 innovation. Instead, it is all about the physical connection aspect (in the same way, say, that microUSB and miniUSB are about size). The reversible USB-C can be compatible with USB 2.0, 3.0 and 3.1, but was created with the aim of replacing both ends of the cable. USB-C offers new connection possibilities, we've seen ranges of everyday connected devices emerge or re-emerge with upgrades. We've made a selection of our favourite products incorporating a USB-C compatible with 2.0.3.0, and 3.1. Enjoy…
Mobile phones
Perhaps the most noticeable sign of popularity, USB-C connectors are gradually making their way onto smartphones. LG G5, HTC 10, Google Pixel, Samsung Galaxy S8 (and the infamous Galaxy Note 7), and soon the Nexus 6P and Nexus 5X… It won't be long before any Android that comes out is equipped with a type-C USB connection.
As well as its USB-C port, the 5.3 inch LG G5 features a detachable base, which can be swapped for other units ("friends"). Connect a 32-bit digital sound converter, a camera controller, the LG 360 cam or the LG 360 VR headset! A complete multimedia system which you can order from mobiles.co.uk – or use a Mobiles.co.uk Voucher Code to bag an HTC 10, a Google Pixel or a Galaxy S8 at attractive prices, with a variety of offers if you are looking for a phone+contract deal.
Sony dual connection flash drive USB Type-C/Type A 64 Gb
Also available in 16 and 32 Gb, we had to mention this little jewel from Sony, an essential piece of kit if you are often on the go, need to share files for work, often transfer your weekend photos to your mum's computer, or simply want to securely back up your files. Capable of stocking up to 64 Gb for a reasonable price, this dual connection flash drive allows you to share photos, videos, music and other files between your computers, smartphones and tablets, in seconds thanks to a 130mb/sec transfer speed. It features two types of connectors (C and A), and a super sleek, slim and lightweight design with a protective silicone cover so you can bring your drive anywhere without damaging the USB plugs.
Acer H277HUSMIPUZ 27″screen
This superb 27 inch screen from Acer comes with a Type-C USB 3.1 cable which allows you to connect it to your laptop. Thanks to the Type-C connection, the DisplayPort signal, audio signal, and the data connections are combined in a single port! Add to that a QHD resolution (2560 x 1440 p), ColourPlus and EyeProtect technologies and an anti-glare matte surface – not to mention a splendid modern design – and this Acer number will truly enhance your desktop experience.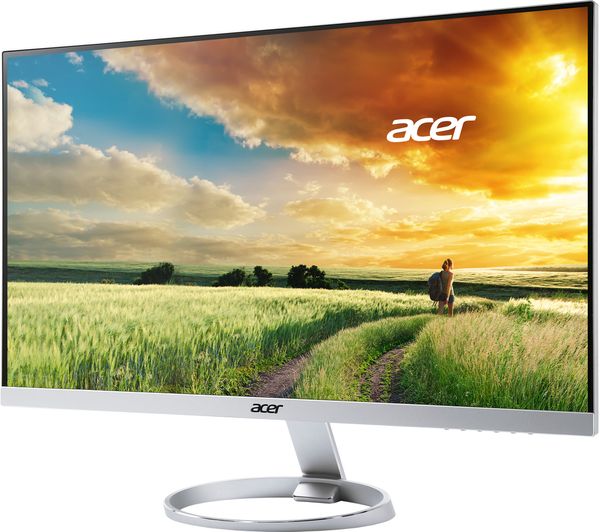 LaCie Porsche Design 2 Tb external hard drive
This drive combines the technology and functionality of LaCie with the sleek and solid Porsche Design. Thanks to the speed that a USB 3.0 connection offers to this external hard drive, you could transfer 700mb videos in only 7 seconds! A 2 Tb memory space is largely comfortable for your data backup, or to store and share all your files securely and fluidly. What's more, the solid aluminium casing protects the drive and offers a most refined look. Created specially for Macs but usable cross-platforms, it is available from the Apple store, the LaCie store or Amazon.